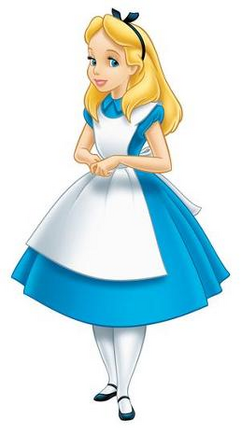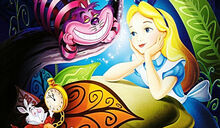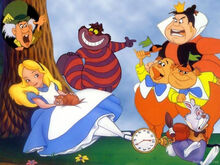 Alice is the roleplay character of Hungergame0616.
Description
Edit
Alice Liddel is the main protagonist from Disney's 1951 film Alice in Wonderland and the book that the film was adapted from. The voice and the reference for animators of the character in the movie was done by Kathryn Beaumont, who also did the voice on the self-titled attraction at Disneyland as well as in other media involving Disney, including the TV series </span>House of Mouse and the first Kingdom Hearts video game. Since 2005, she has been voiced by Hynden Walch.
Appearance
Edit
Alice is a very beautiful 10 year old girl (7 in the book), who can be considered cute, as she is quite young. Being of a higher born status, her skin is fair, as people in the higher classes in that time period often were. Alice also has long, thick blonde hair, just past shoulder length, pink or red lips and big blue eyes. Her figure is slender, but in an pear shape despite being only a child. The most likely explanation is that she has started to wear corsets, as she's considered to be nearly an adult in the time period the film is set, if not then it's just the style she was drawn in or an illusion given by her dress.
Alice's signature outfit is a light blue knee-length dress, with a white pinafore apron on top and short puffy sleeves. Underneath her dress, she wears a corset, white petticoat, white stockings, frilly white knee-length pantalettes, black strapped Mary Jane shoes and a black bow in her hair.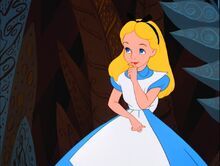 Personality
Edit
Alice is depicted as a daydreamer first and foremost. Prior to arriving in Wonderland, she sat on the bank of a river listening to her sister reading lessons, which she didn't like as the book, her sister was reading, had no pictures, and claimed, "In my world, the books would be nothing but pictures!" This gives some idea of Alice's large imagination. And at first, Wonderland seemed like the perfect place for Alice, as it allowed her to indulge in her imaginings as well as her intense curiosity. However, despite her cuteness and beauty, Alice's quick temper and pedantic eagerness to show off her knowledge often proved to be bad qualities in Wonderland, and landed her in many precarious situations. Still she's seen as polite, honest, well spoken and respectful, if not given a reason to be otherwise.
Community content is available under
CC-BY-SA
unless otherwise noted.